INVENTING THE FUTURE
From know-it-all windows to vehicles with minds of their own to new uses for tried-and-true tech, developers are working toward a brave new world of transportation.
Because when it comes to getting here, there and everywhere, the future will belong to those willing to build it. And sometimes, to those willing to invent it.

GAMIFICATION
Gaming is a big deal online, and it may soon be in cars. Automakers are developing ways to potentially augment the driving experience through greater interaction. The 2016 Chevrolet Bolt takes advantage of OnStar 4G LTE Wi-Fi capability that lets drivers compete with their friends on miles per charge and highest MPG equivalent.
LIGHTWEIGHTING
Aluminum is the third most abundant element, but No. 1 with automakers looking to get fit. More new vehicles will dump weight to gain efficiency and performance, largely thanks to aluminum. The Cadillac CT6 platform, for instance, blends high-strength steel and aluminum parts, including 13 aluminum casings that shave nearly 200 pounds combined.
TURBOS
Turbocharging is old — like, Queen Victoria old. But it'll continue to make a big mark on the future as the go-to technology for boosting efficiency and performance in everything from mainstream compacts to muscle cars.
AUTONOMOUS DRIVING
A car with a mind of its own may be too futuristic for some, but automakers are working to bring the efficiency, safety and sustainability potential of driverless cars to the mass market. In 2017, Cadillac plans to introduce Super Cruise, which automatically switches to autopilot mode when its camera detects driver eyes aren't on the road.
E-MOBILITY
Electric vehicles are going (even more) mainstream. From plug-ins such as the Chevrolet Volt to the Chevrolet Malibu Hybrid, automakers are taking charge of the future of driving with big investments in versatile models that go a greater distance for a lot less money.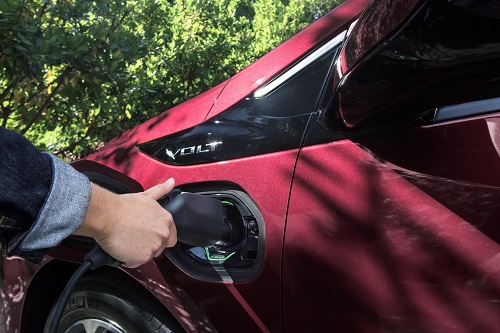 SMARTPHONE MANAGEMENT
Much of life already fits on a smartphone, and cars may be next. In addition to OnStar Remote Link, GM is working on apps that not only control door locks and heated seats, but that also monitor vehicle functions and systems in real time, including fuel economy, battery life and speed.
CAR SHARING
Car sharing has long made city life a lot easier. But as mobility needs evolve, automakers including General Motors are investing in the brave new world of transportation. Services such as Maven provide a wide range of vehicles throughout urban centers, available by the hour with just a few taps on a smartphone.
KINETIC ENERGY
Vehicles with regenerative braking systems, such as the Chevrolet Malibu Hybrid and 2016 Volt, can already improve efficiency by storing the kinetic energy produced upon braking for later use. In the future, it may be possible to store energy in a similar way with electricity-converting speed bumps.